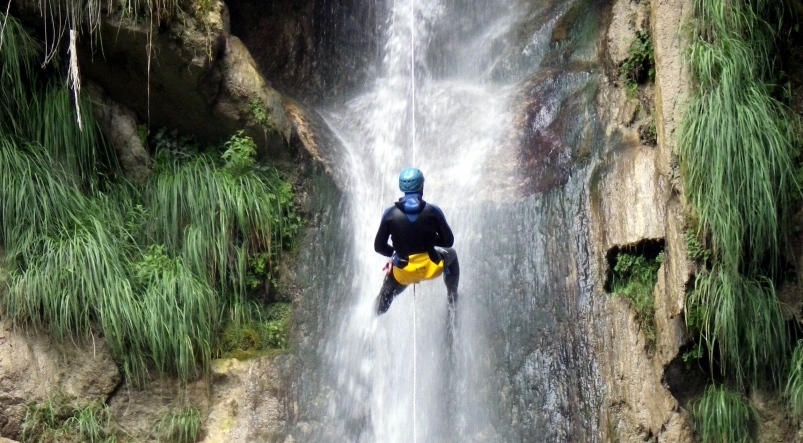 What is canyoning?
Canyoning, such a thrilling sport:
Canyoning is a very varied activity! It consists in evolving inside a river, going through narrow gorges. Inside a canyon, you will discover waterfalls. These you will jump from, slide or abseil down. Most of the time, you walk or swim from one waterfall to another depending on the depth of the water. Last but not least: canyoning is often taken for canoeing but they are two different activities! There is no boat here!
Who can practice canyoning?
Canyoning, a popular activity:
The shape and composition of the canyons being very different, some will be more aquatic, playful, technical or vertical. The difficulty, length and commitment (there is no escape way possible) are different from a canyon to another. We will thus help you finding one adapted to your likes, age and level. This activity being an aquatic one, you must be able to swim and get your head in the water.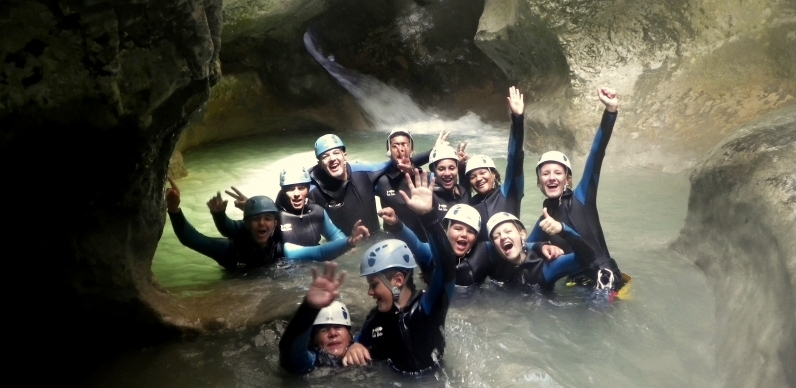 Where to practice canyoning?
Canyoning, an outdoor activity:
Canyoning is not only a sport, it is above all another way of discovering amazing places that are generally difficult to reach. While going down the river, you will see various landscapes, wild flora and fauna (such as frogs, dragonflies, snakes, birds...).
What is the equipment necessary for canyoning?
A specific safety equipment is required for this activity :
We will lend you :
A 5 mm neoprene suit and socks which will make you feel comfortable despite the cold water
A harness and decender which will be useful to abseil down
A helmet
A bag and a waterproof box to put your lunchbox in during the one day trips.
You will need :
A pair of sport shoes like running shoes which will get wet
A swimming suit
Something to tie long hair and prescription glasses if you have to wear them
A picnic and a bottle of water for the one day trips
The canyoning is it a dangerous sport?
Even if canyoning is a popular activity, you must remember that you are evolving in a wild natural background and so the safety instructions MUST be respected.
If you need some specific medicine or treatment or if your health requires a specific care, you will necessarily have to inform your guide about it before the activity starts.