What is the rock-climbing activity?
Climbing comes in many types, each having its own features and methods:
Climbing can be described as the act of going up a mountain or a cliff. There is many different climbing support (artificial wall or natural cliff) and practice : from bouldering (climbing on boulder without rope) to climbing on cliff of 10 to 30 metres hight up to climbing multi pitch route on vertiginous walls of several hundred meters.
Who Can Climb?
Easy cliff for beginner or advanced course:
It is the best support to discover safely rock climbing and improve skills and techniques. Top roping is the most accessible style of climbing for beginners : someone belay the climber by holding rope which is passed throught a top anchor.
With half day course you will learn differents basis techniques and you will challenge yourself physically and mentally.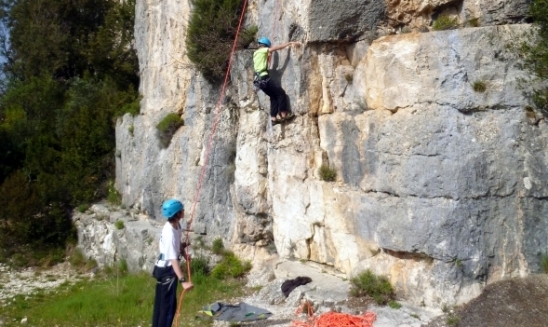 Where to practice rock climbing?
Multi pitch climbing for unique sensations in a magical and spectacular environment:
The Verdon Gorges being an amazing place to make multi pitch climbing, it is thus on these large walls from 100 to 300 meters hight that we propose you to realize a vertical trip!
What is multi pitch climbing :
Multi pitch climbing is the ascent of climbing routes (more than 50 metres hight) with one or more stops at a belay station. The wall ascent is made by linking many short section of climbing (from 15 to 45 metres long). Each section of actual climbing between stops at the belay stations is called a pitch.
This practice is as sure and secure as on the short easy cliffs but request more endurance.
Evolving in this vertical world you will feel the airy atmosphere which emerges from and you will keep in memory rich emotions.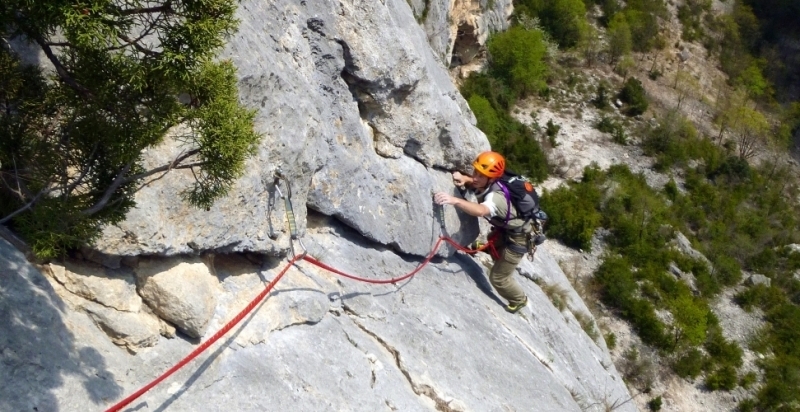 Where to practice rock climbing in the Verdon?
The Verdon, a historical area of climbing:
Since the end of the Sixties, climbing is practised in the Verdon Gorges, on these very aesthetic walls. Climbers of the period had discovered this huge site and has made first multi pitch routes, in the cracks of the Escalés face where great classics borned.
At the beginning of the Eighties, Patrick Edlinger (famous french climber) made known rock climbing in the Verdon Gorges with his cult film "the life at the end of the fingers".
In 1985, full of small easy climbing sectors were equipped and it has permitted to democratize climbing in this area, which until now, was intended for a certain elite.
Today the Verdon Gorges are world renowned by climbers which traverse thousands of kilometers to cover these mythical walls.